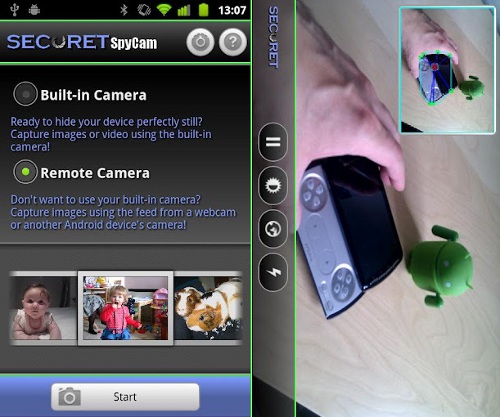 If you use the spy cam solution to track your spouse, you can benefit the same way you do with kids. Spy Phone App is designed in a way that makes it send regular updates with collected info to your account. You can set up the notification system that will alert you when an update comes.
Spy camera app
You can also set the frequency of those updates. Having a spy cam app running non-stop means that your phone will automatically upload all pictures you take with the device into cloud.
You can access them from any computer or mobile device. The best thing is that you can be sure the precious images will remain with you even if something happens to the device. The answer to this depends on how you go about using the application as well as the laws in your state.
Introduction
One thing that is the same for every place is that installing spy software of any kind is illegal without consent. This means that you must first get the person you want to monitor to agree on this.
This would be a challenge, even if you are family. In this document, you will find extensive information on all legalities pertaining to this software. Read carefully as by installing and activating the app, you indicate your consent to the terms.
In this particular case, this means that you agree to obey the laws of your state in regards to using Spy Phone App. You also accept the responsibility of researching those laws in detail. Below, we dive into the world of camera spying by talking about how to spy on someone through their phone camera and the best spy camera app. Unlike what many want to believe, it is possible to spy on someone through their phone camera. Using third-party apps and software, a stranger or someone you know could spy on your phone contents and your surroundings.
FlexiSPY™ Features | RemCam | Spy Camera
Auto Forward is considered the best spy camera app on the market. Now, how can someone spy on you?
In the next section, we talk about how to spy on someone through their phone camera using PhoneSpector. Follow the installation instructions indicated, such as entering the number of the phone you want to monitor and your product license key.
For a free security camera, look no further than your old phone
This can be on your own laptop, smartphone, or tablet. Before installing the spy camera app, you need to log into the app on your own Wi-Fi enabled device.
[High Quality] Silent Camera.
best free spying apps for android?
Conclusion.
7 Best Free Spy Camera Apps for Your Android;
Your login credentials are provided by the company. Via your account, enter the Apple ID and password belonging to the device you would like to camera spy on. Interested in learning more about spy camera apps?